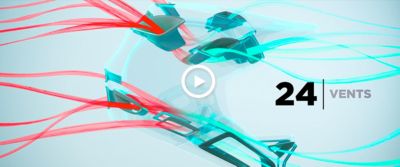 FOX PRESENTS | THE ALL NEW FLUX
IN A CLASS OF ITS OWN
The Fox Proframe helmet is the lightest and most breathable full face mountain bike helmet we have ever created. Designed to perform at the highest levels for aggressive all mountain riders and enduro MTB racers, it packs DH certified protection into a superlight shell via our patent pending, fully integrated chinbar. With 15 big-bore intake and 9 exhaust vents, the Proframe MTB helmet offers open face level airflow and breathability to keep you cool on tough assents; and once you reach the top, gives you the confidence to ride to your limit on challenging descents.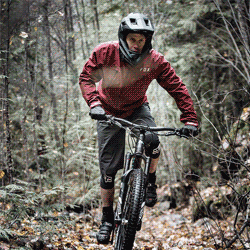 BEST APPAREL AND
PROTECTION WINNER
WINNER 2017 -
ACCESSORIES CATEGORY
DESIGN & INNOVATION
AWARD 2018
TECHNOLOGY & FEATURES
VARIZORB
Dual-density Varizorb EPS liner provides improved protection by spreading forces of impact across a wider area.
MIPS PROTECTION
Proven MIPS™ impact protection system reduces rotational forces in a crash.
INTEGRATED CHIN BAR
The integrated chin bar is secured to the helmet with our patent pending system and meets ASTM downhill standards.
BIG BORE AIRFLOW
15 big bore vents and 9 exhaust vents keep you cool and aid in moisture management.
SECURE VISOR
The securely fixed visor is positioned to channel airflow into the big bore vents.
FIDLOCK BUCKLE
Fidlock® SNAP helmet buckle provides quick and secure entry and exit while wearing gloves.
FOX UNIVERSITY | THE ALL NEW FLUX HELMET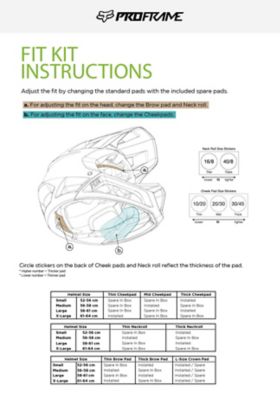 All spare parts are also available to purchase on our website - in the Spare Parts category.
More Styles
Fox Proframe Mink Helmet är vår lättaste och mest andningsaktiva fullface-hjälm någonsin. Designad för att prestera på högsta nivå vid aggressiv all mountain/enduro körning, rymmer hjälmen Down Hill-certifierat skydd i ett superlätt skal via vårt patentsökta, fullt integrerade hakskydd. Hjälmen Proframe har 15 stora ingående ventilationshål och 9 utgångshål, vilket ger en oslagbar ventilation som håller dig sval även vid långa och hårda dagar i uppförsbackarna. Och när du når toppen har du självförtroende att utmana gränserna även i de tuffaste nedförsbackarna.
Extremt lätt hjälm för enduro och all mountain
Patentsökt, integrerat hakskydd
Liner som andas, leder bort fukt och har antibakteriell behandling
24 stora ventilationshål ger en oslagbar ventilation
Fixerat visir med optimal placering för maximal luftcirkulation
Fidlock® SNAP-spänne för snabb på- och avtagning
MIPS™-skyddssystem reducerar rotationskrafterna vid en krock
Dual density Varizorb™ med EPS-liner ger ett förbättrat skydd
Vår lättaste Down Hill-certifierade hjälm: 750 g (storlek M)
ASTM F1952 (inklusive stabilitetstest av hakskydd)
EN 1078
AS/NZ 2063
CPSC
Teknikinformation