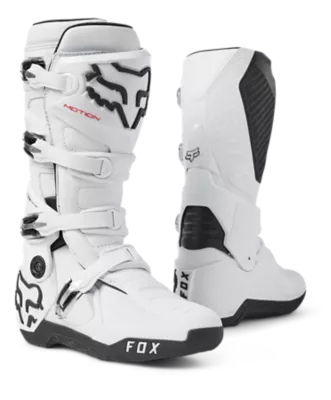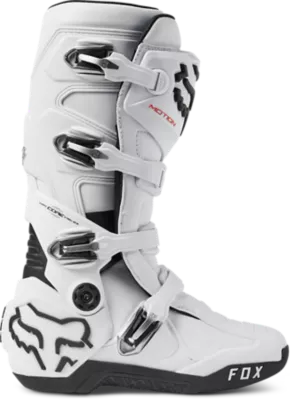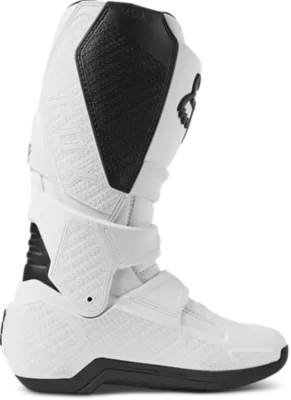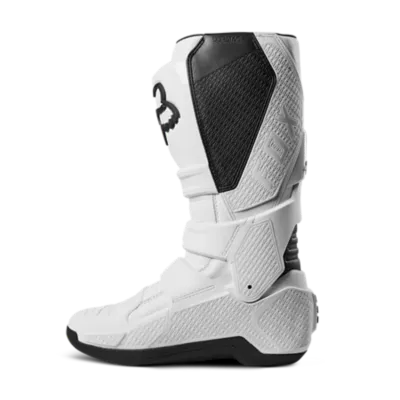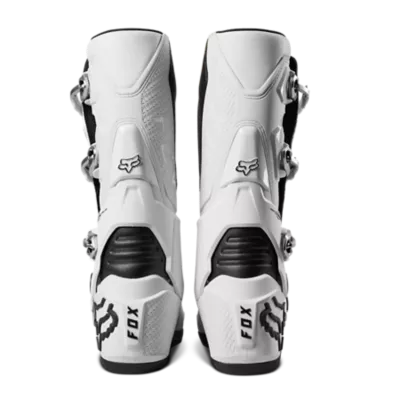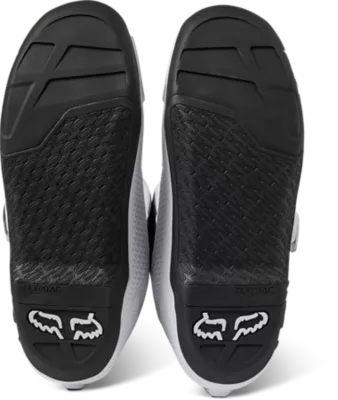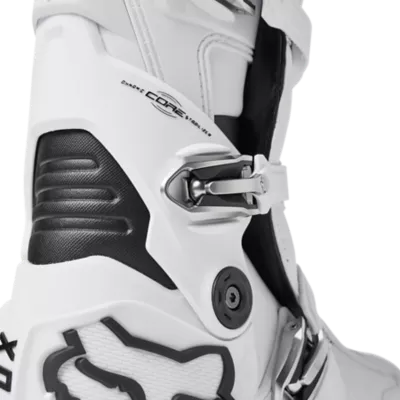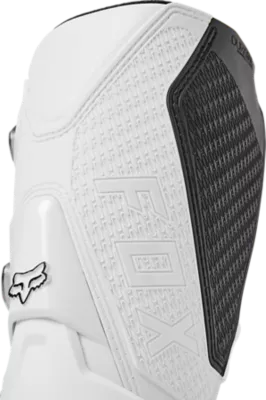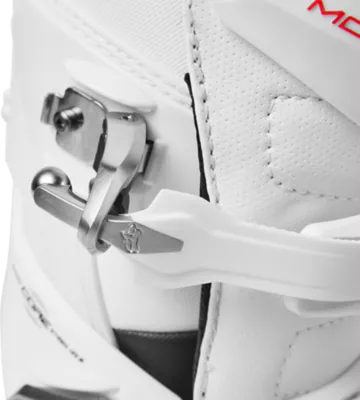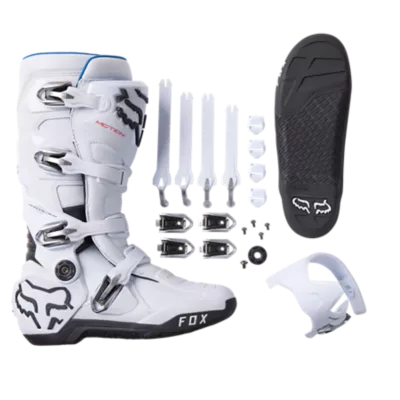 Produktnummer
29682-008-5
Sizes are indicated in US.
Consult the size chart to find EU equivalents.
Thank you, we will email you when the item is in stock.
Helt nya Motion Boots, med en ny och förbättrad läst, är bekväma från första stund och har en utmärkt passform. Med smal utformning vid skaftet och exklusivt Fox Duratac-värmeskydd får du en mer intuitiv känsla när du kör och förbättrat grepp. Dessa högpresterande dirtbikestövlar har ovandel i syntetläder av mikrofibermaterial som ger överlägsen komfort, passform, flexibilitet och hållbarhet. Luftigt meshmaterial med antibakteriell Microban-behandling och bekvämt foder som motverkar dålig lukt håller dina stövlar fräscha varje gång du kör. Crosstövelns patenterade Hinge Lockout-system förhindrar överrörelse medan innersulan med anti-chock mellansula och hälkudde ger stöttålighet, stabilitet och stöd på fotpinnen. Den låga designen gör att foten kommer lägre och närmare fotpinnen, vilket ger en förbättrad känsla vid bromsning och växling, medan TPU skenbensskydd, tåskydd, hälskydd och vadskydd ger full täckning där det behövs som mest. Manschetten i blandmaterial av nylon och glasfiber ger fotleden extra skydd, optimal täckning och överlägsen passform. Håll fötterna säkra i dessa tuffingar, Motion Boots har ett nytt, patenterat fastspänningssystem som ger en säker stängning och en perfekt passform i hela stöveln. Stöveln kompletteras med en smalare passform i tån för enklare växling och en smalare helhetsprofil.
Motion Boots har en ny och förbättrad läst, är bekväma från första stund och har en utmärkt passform
Ovandel i syntetläder av mikrofibermaterial ger överlägsen komfort, passform, flexibilitet och hållbarhet
TPU skenbensskydd, tåskydd, hälskydd och vadskydd ger utmärkt täckning
Smal utformning och exklusivt Fox Duratac-värmeskydd ger förbättrat grepp och ökad känsla
Låg design gör att foten kommer lägre och närmare fotpinnen, vilket ger en förbättrad känsla vid bromsning och växling
Smalare i tån för enklare växling och en smalare helhetsprofil
Luftigt meshmaterial med antibakteriell Microban-behandling och bekvämt foder som motverkar dålig lukt
Manschetten i blandmaterial av nylon och glasfiber ger fotleden optimal täckning och överlägsen passform
Patenterat Hinge Lockout-system förhindrar överrörelse
Nytt, patenterat fastspänningssystem ger en säker stängning och en perfekt passform i hela stöveln
Vår exklusiva Fox Duratac gummiblandning ger utmärkt slitstyrka och oöverträffat grepp på yttersulan och värmeskyddet
Innersula i blandmaterial av nylon och glasfiber med anti-chock hälkudde ger stöttålighet, stabilitet och stöd på fotpinnarna
Gjuten fotbädd av EVA med antibakteriellt foder ger komfort, dämpning, stöd och motverkar dålig lukt när du kör
Utbytbar sula och sulinlägg
Boots have a standard fit that's true to size, take your normal shoe size
Half sizes available in 9.5, 10.5, 11.5
Motion has the widest available size range, 5-14
Sizing uniform across all models: Instinct, Motion, Motion X, Comp, and Comp X
Zero break-in required thanks to our patented hinge system
Resoleable outsole to maintain peak performance
Details on resole program coming soon
Fully serviceable with Fox Racing parts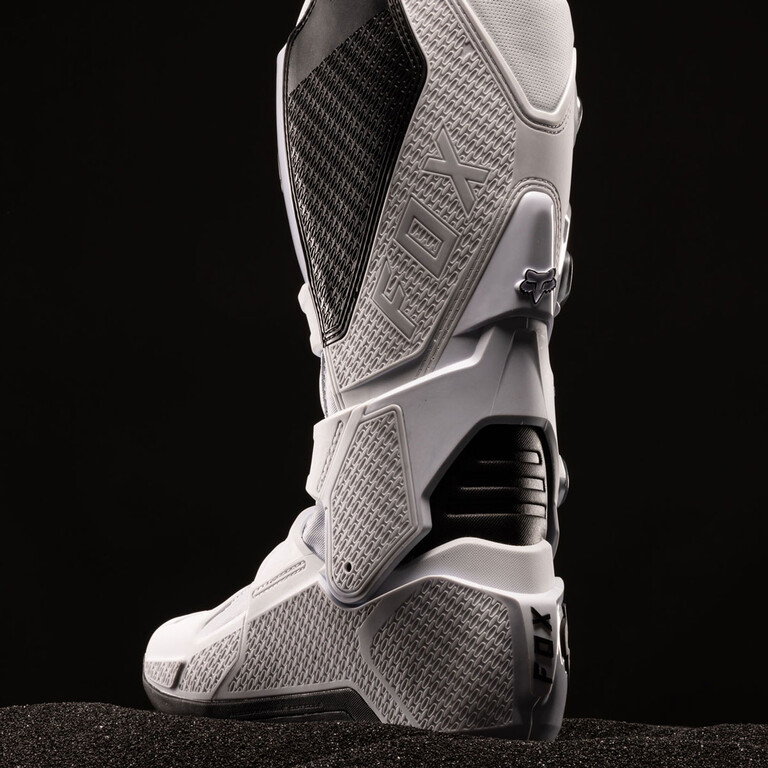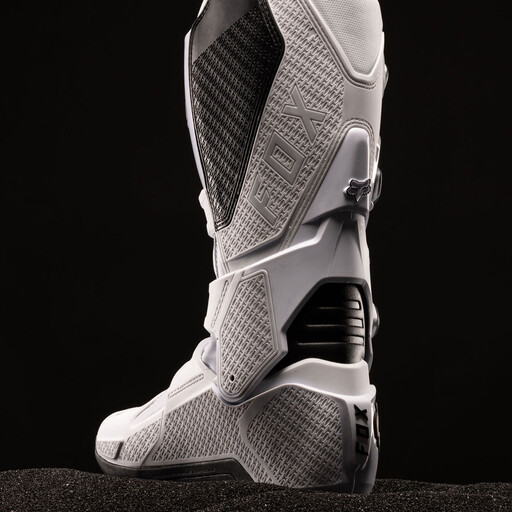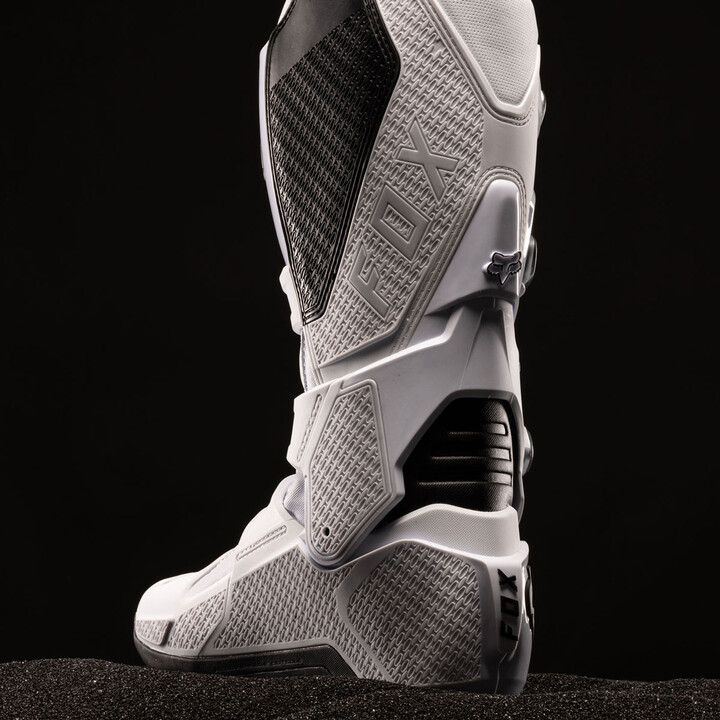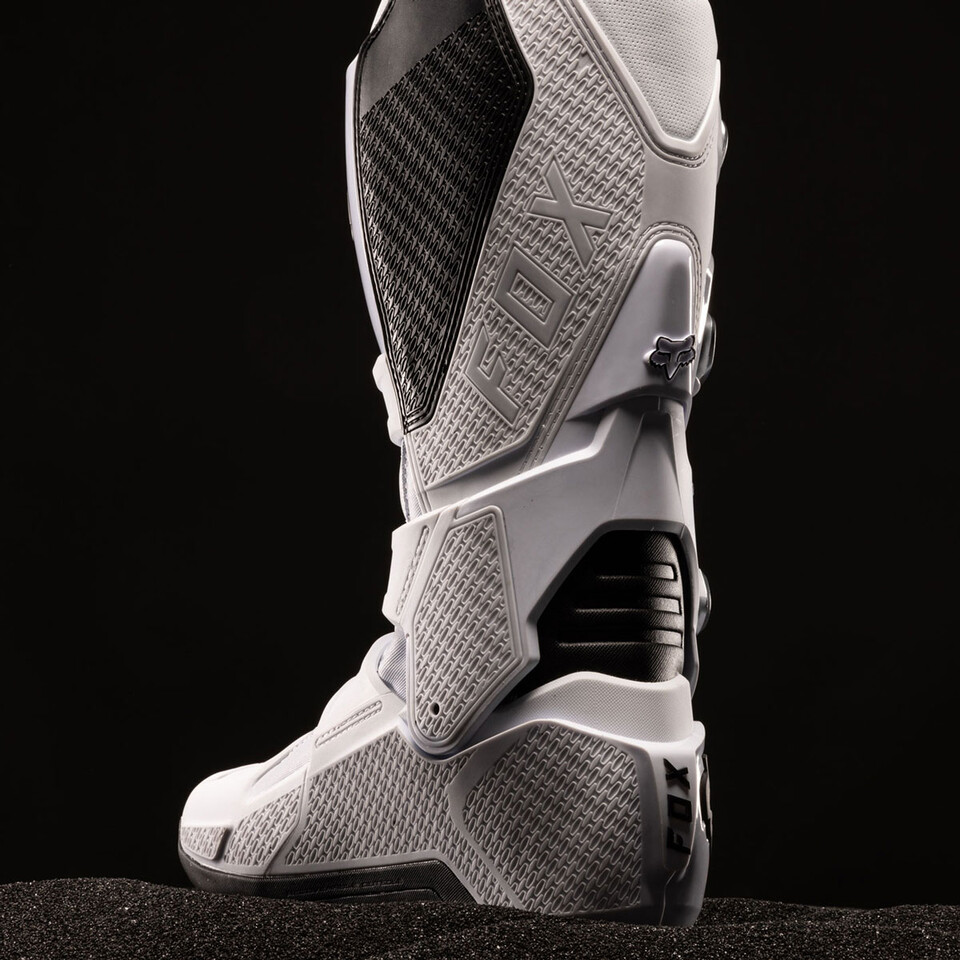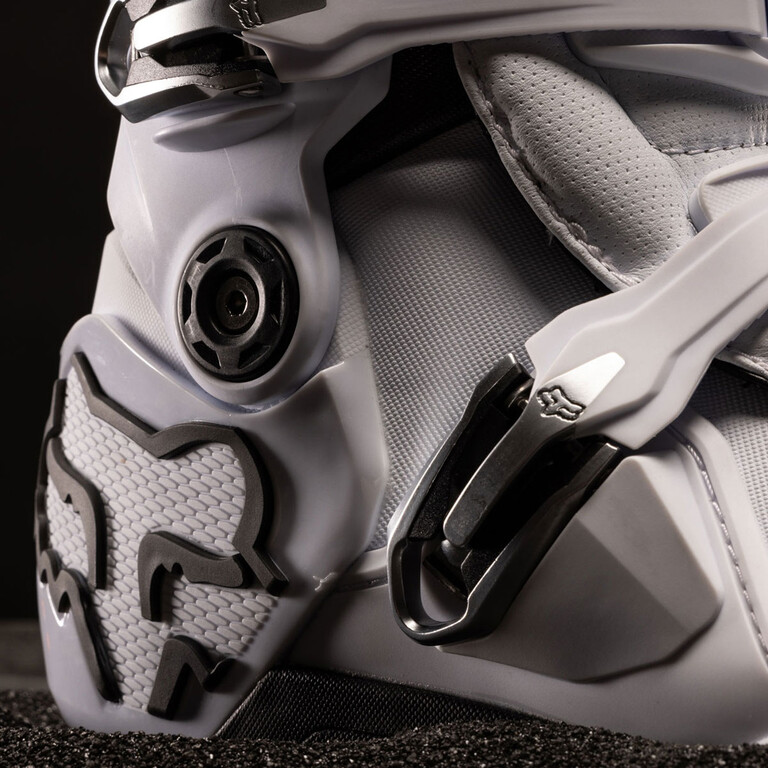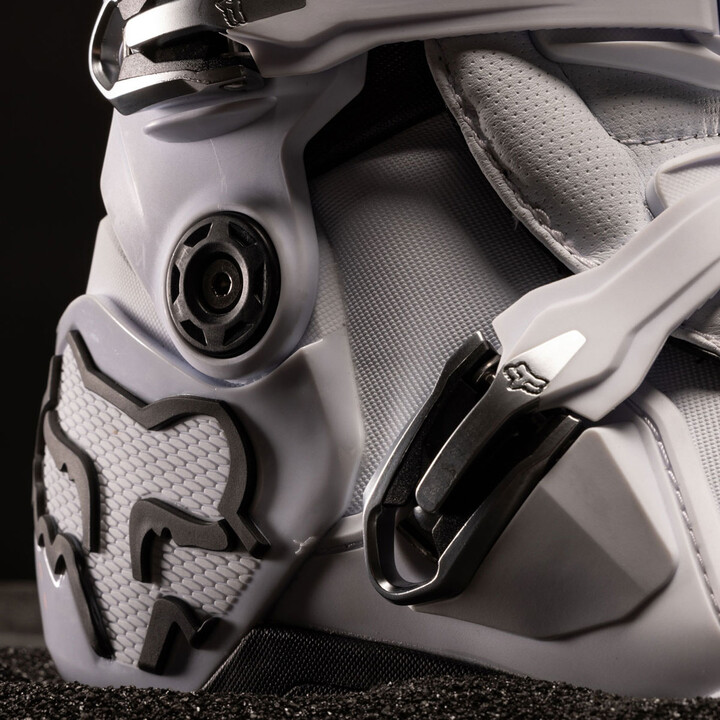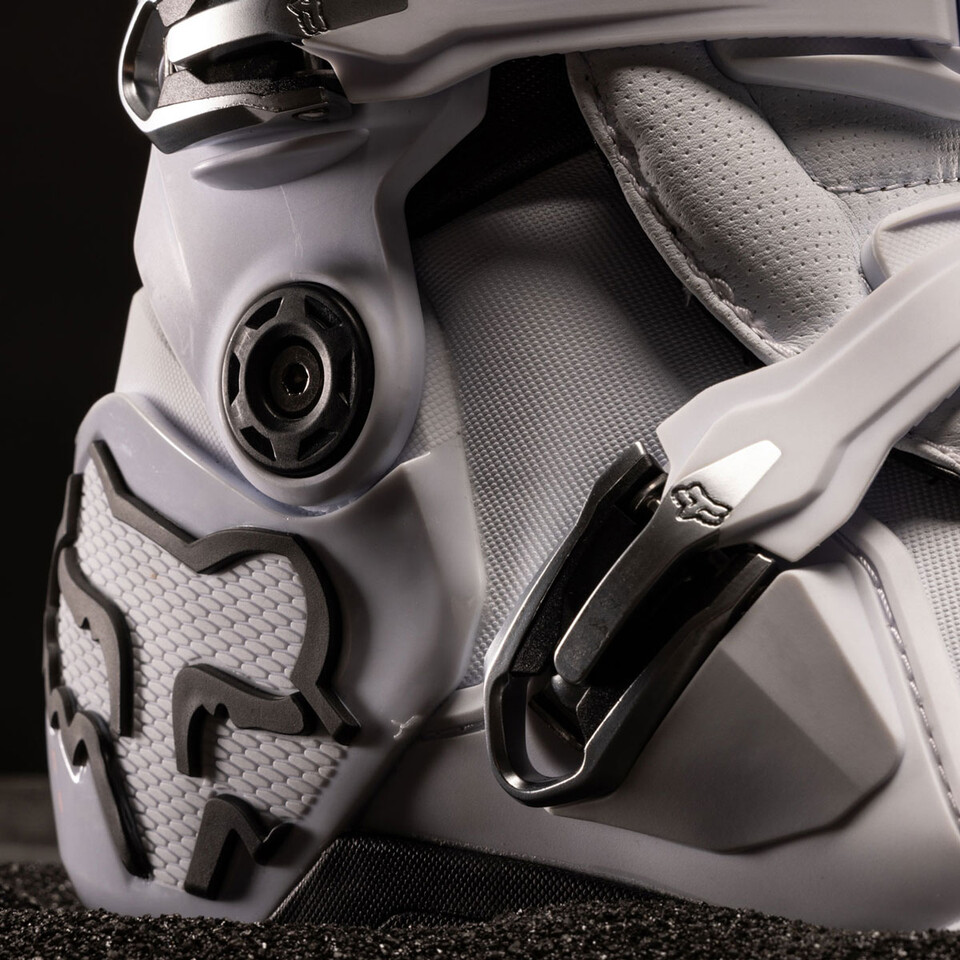 3 Levels of Performance
Instinct

Pro-level motocross boots.

Best-in-class grip, mobility, and protection.

5,999.00KR

Grip

Durability

Instinct

Motion

Performance motocross boots.

The perfect blend of grip and durability

Starting at 4,449.00KR

Grip

Durability

Motion Motion Offroad

Comp

Essential motocross boots.

Maximum durability and essential features

Starting at 3,099.00KR

Grip

Durability

Comp Comp Offroad

Details
Details
Details

ULTRATAC

Proprietary grip compound provides the highest level of grip

DURATAC

Proprietary grip compound provides perfect blend of grip and durability

POSITAC

Proprietary grip compound for maximum durability

Range & Half Sizes

Size range, 8-14. Half sizes 9.5, 10.5, 11.5

Range & Half Sizes

Size range, 5-14. Half sizes 9.5, 10.5, 11.5

Range & Half Sizes

Size range, 8-14. Half sizes 9.5, 10.5, 11.5

Forged Metal Buckles

New patented 4-buckle system provides a durable, secure closure and perfect fit

Forged Metal Buckles

New patented 4-buckle system provides a durable, secure closure and perfect fit

Composite Buckles

New patented 4-buckle system provides a durable, secure closure and perfect fit

Resoleable Outsole

Resoleable rubber outsole for a longer lasting boot even after wear and tear

Resoleable Outsole

Resoleable rubber outsole for a longer lasting boot even after wear and tear

Resoleable Outsole

Resoleable rubber outsole for a longer lasting boot even after wear and tear

Hinge Lockout

Hinge lockout stops motion before hyperextension, supports forward and back movement, and gives lateral support around the ankle

Hinge Lockout

Hinge lockout stops motion before hyperextension, supports forward and back movement, and gives lateral support around the ankle

_

Microban Liner

Air mesh treated Microban liner for antimicrobial and odor control solutions

Microban Liner

Air mesh treated Microban liner for antimicrobial and odor control solutions

Air mesh liner for breathability

Insole

Composite nylon-fiberglass insole board with anti-shock midsole and heel pad provides impact resistance, stability and support on the foot peg

Insole

Composite nylon-fiberglass insole board with anti-shock pad at the heel supplies impact resistance, stability, and support on the pegs

Fiberglass/nylon composite insole board

_

Offroad Variation

Waterproof membrane to help keep water out. Enhanced traction on the outsole provides added grip in variable off-road conditions

Offroad Variation

Enhanced traction on the outsole provides added grip in variable off-road conditions
Size Guide
| Size (US) | US (Womens) | US (Youth) | EU Size | UK Size | Japan / CM Size |
| --- | --- | --- | --- | --- | --- |
| 5 | 6.5 | Y5 | 38 | 4 | 22.5 |
| 6 | 7.5 | Y6 | 39 | 5 | 23.5 |
| 7 | 8.5 | Y7 | 40 | 6 | 24.4 |
| 8 | 9.5 | Y8 | 41 | 7 | 25.2 |
| 9 | 10.5 | – | 42.5 | 8 | 26 |
| 9.5 | 11 | – | 43 | 8.5 | 26.5 |
| 10 | 11.5 | – | 44 | 9 | 26.8 |
| 10.5 | 12 | – | 44.5 | 9.5 | 27.3 |
| 11 | 12.5 | – | 45 | 10 | 27.8 |
| 11.5 | 13 | – | 46 | 10.5 | 28.3 |
| 12 | 13.5 | – | 46.5 | 11 | 28.6 |
| 13 | 14.5 | – | 48 | 12 | 29.4 |
| 14 | 15.5 | – | 49 | 13 | 30.2 |